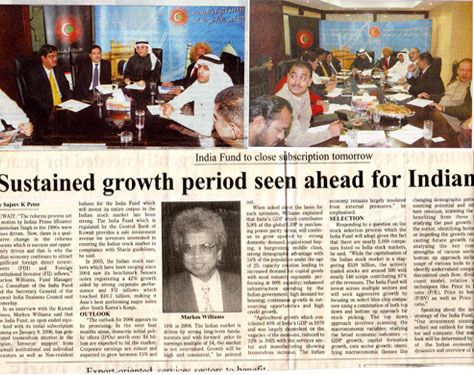 Al Madina for Finance & Investment Company and Kuwait India Business Council with UTI International as Chief Advisor launched the India Fund – the World's First India focused Sharia Compliant open ended equity fund.
India Fund offers investors a safe investment channel and Kuwaiti individual and institutional investors as well as Non resident Indians and other expatriates can benefit from the India experience according to Dr. Ali Al Shamali, the Chairman and Managing Director of the Al Madina for Finance & Investment which launched the Fund which will invest exclusively in equities of Indian companies in the Indian Stock Exchanges.

Speaking at a presentation on the India Fund organised in association with the Kuwait India Business Council, an affiliate of the Federation of Chambers of Commerce & Industry, India's apex Industry body last Monday at the Crowne Plaza Hotel, Dr. Shamali said the first day of the launch attracted an investment of KD Five Million.

The India Fund has been approved by the Central Bank of Kuwait and the Kuwait Ministry of Trade & Commerce. While the Supervisory Authority of the India Fund is the Central Bank of Kuwait., the Fund Custodian is Kuwait Clearing Company. The Indian Regulatory Authority for the India Fund is Securities & Exchange Board of India (SEBI) and the Indian Custodian of the Fund is Deutsche Bank. The Chief Advisor of the Fund is UTI International Ltd, the global arm of India's largest mutual fund. The India Fund will be investing exclusively in the Indian market across several high growth sectors of the Indian economy.

The Fund which is the World's first Sharia India Fund is promoted by Al Madina for Finance & Investment whose major shareholders are Al Ahlea Investment Company, Gulf Bank, Gulfinvest International, MS Holding and National Investment Company. The Fund size ranges from KD 5 (five) million to KD 50 (fifty) million with the unit cost at KD One. The minimum no. of units to be purchased is 1000. The Fund remains open for subscription from November 21 to December 21, 2005.

"A very positive outlook about the Indian economy combined with a fast-growing market have made India an attractive destination for foreign institutional investors like us", Dr. Shamali stated

The India Fund will track, research and evaluate macroeconomic indicators, capital markets, financial sector and mutual funds and will integrate its regional strength and expertise with world-class practices of the Chief Advisor to produce unrivalled returns for investors, Dr. Shamali added

Welcoming the gathering, Markos Williams, the Founder and Secretary General of the Kuwait India Business Council said the India Fund offers a safe investment avenue to investors who believe that India offers immense scope for excellent returns. There is an initial lock in period of three months after the investment process begins and thereafter investors may seek redemption on a monthly basis. The Net Asset Value of the Fund will be published in local newspapers on a monthly basis.