KIBC extends a very warm welcome to Indian Ambassador K. JeevaSagar and wishes him success during his tenure in kuwait.
In a short span of time, Ambassador JeevaSagar, a seasoned diplomat, physicist and banker has impressed the International diplomatic community and also endeared himself to the Indian community. During the 69th Republic Day of India celebrations, Ambassador's disarming and anecdotal speech was widely applauded. Ambassador JeevaSagar has begun well and at KIBC, we are confident that his tenure will see a significant turnaround in Kuwait India bilateral business relations.
His proactive approach and desire for improving business with India could be gauged from his swift response to a request by KIBC for a meeting with him. Within 40 minutes of our request, Ambassador JeevaSagar responded," Delighted to receive your message, particularly that I myself was enquiring about a core group of Kuwaiti businessmen and industrialists that I could meet as I have noticed that all indicators of India- Kuwait economic engagement have been stagnating".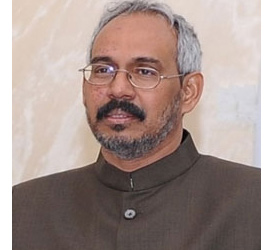 Mr. K. JEEVA SAGAR
INDIAN AMBASSADOR